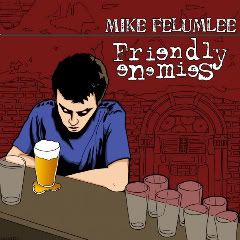 Shortly after doing his split with Dan Andriano of Alkaline Trio, ex-Alkaline Trio and Smoking Popes drummer Mike Felumlee quit music.
"I spent 5 or 6 years without touching a musical instrument of any kind," Felumlee said. "I decided I was just going to be a fan of music rather than play music."
He simply got burnt out on it and if he wanted to make a career out of it, he'd have to tour a lot; something he didn't want to do.
"I have a son and I wanted to spend more time with him," Felumlee said. "There have been a lot of ups and downs through the whole thing and I kinda just said, 'Fuck it, I don't want to do it anymore.'"
Around the turn of the century, Felumlee had a record label he started and managed called Double Zero Records which featured his own releases (his 2001 full-length, "64 Hours" and his 2002 split with Andriano of Alkaline Trio) as well as releases by fellow Chicagoans Split Habit, Amazing Transparent Man, the Smoking Popes, Duvall the Honor System and others.
"We had that Smoking Popes '1991-98' release and we did a Smoking Popes live album, which is funny because it's almost the exact same set list as the Victory (Records) live album that they did years later," Felumlee said. "We had a lot of stuff that sold pretty well, but we ran into a couple problems early on – I had a distributor go bankrupt on me, so that kind hurt."
Back in 2001, Felumlee played drums in Alkaline Trio on the band's "From Here To Infirmary" album.
"We were touring a ton the last year; we played 250 shows or more and we were kind of in the process of like setting up what we were gonna do the next year and Matt and Dan both wanted to go really on a stretch without having very much of a break at home," Felumlee said. "It was something that I couldn't really do and I can see where they were coming from. They were gonna do the entire Warped Tour and the Plea For Peace tour - both of which are really good tours, but it was something I just couldn't commit to, based on my family situation. I think Derek fits with them really well."
In January 2009, seven years after his last release, Felumlee came out with a split with Travis Brown from Split Habit's new band, Friendly Enemies. Felumlee and Friendly Enemies each have four songs on the split.
When he writes songs at home, Felumlee uses nothing but a guitar and computer software.
He uses Cubase Studio 4, Ezdrummer and Guitar Rig 2 to create drums, bass and guitar parts and then uses a microphone for laying down the vocals.
For guitar, he uses an audio interface called a Firebox.
While the demos were recorded at home, the four songs that appear on his split were done in a studio.
Felumlee plays drums on "Sing With Me" and "My Favorite Ghost." Kevin Baschen played on "From Where You Are" and "I Hope It's Alright."
Felumlee also plays the rhythm guitar on all of the songs. But when he's at home recording demos, he does everything.
As of now, the EP is only available online through iTunes and www.cdbaby.com. Felumlee and his fellow musicians currently lack the funds to press any CDs or vinyl.
"It's totally a budget thing," Felumlee said. "I don't really have the money to front a bunch of CDs right now. If there was a label that wanted to press vinyl, I would be all for it. That would be really cool, but I definitely don't have the budget to record the stuff to press vinyl or discs at this point."
Felumlee is considering doing a full-length this year as well. He's got over 60 demos at home that he's sitting on and a handful of cover songs as well, including Gloria Jones' "Tainted Love" and Alanis Morrisette's "Hand In My Pocket."
"I've thought about doing a double album. Then I'm thinking, it's kind of funny for a guy nobody really listens to or isn't very popular to be making a double album, but I guess who gives a shit," Felumlee said. "If I have the songs to do it, then what the fuck - who cares? Then the 10 people that like me can get my double album."
Anyone who's listened to Felumlee's heart-quenching tunes know that most of them are about girls - "probably about 90 percent of them," he said. "Eighty percent of them are about one girl in particular.
The one girl in particular he's referring to is a girl he dated in high school.
"When I go into lyric-writing mode, it's just easier to bring up thoughts from that time period. I don't quite know why. I think cause maybe when you're a teenager and experiencing feelings of love and all that kinda stuff, it's a lot more intense at that age so everything seems way more dramatic than it really is, even when you're thinking back on it."
Even though he has no romantic feelings for her anymore, it's easy to go back to that point in time to write songs.
Felumlee was also married for 11 years, but he hasn't written any songs about that.
"Maybe it's too - It's totally too fresh. I rarely write about anything that's currently happening to me."
Lucky for him, current girlfriends don't get jealous.
Check out Mike Felumlee and his band at 5 p.m. this Saturday at Mad Maggie's, 51 S. Grove Ave. in Elgin, Illinois with The Takeouts, The Dyes and Copper Harbor. Check him out on MySpace at www.myspace.com/mikefelumleemusic and PureVolume at www.purevolume.com/mikefelumlee.
His new EP is available at www.cdbaby.com/cd/felumlee, iTunes and by picking up a digital download card at one of his shows, which lets you download the entire EP online.